When you're buying tiles, it can get a little confusing.
There are just so many options. What colour do you want? What's the difference between porcelain and ceramic? How many do you need? And by the time you think you've got it, you've then got to figure out how you're adhering them to your walls or floors.
Talk about a nightmare.
But it doesn't have to be. Instead of running in circles and trying to figure out the right tiles for your project, we're here with this helpful tile guide to lend you a hand.
---
Table of Contents
---
How do I choose the right tile?
Finding the right tiles can seem like a challenge, but there are a few basic things to take into account.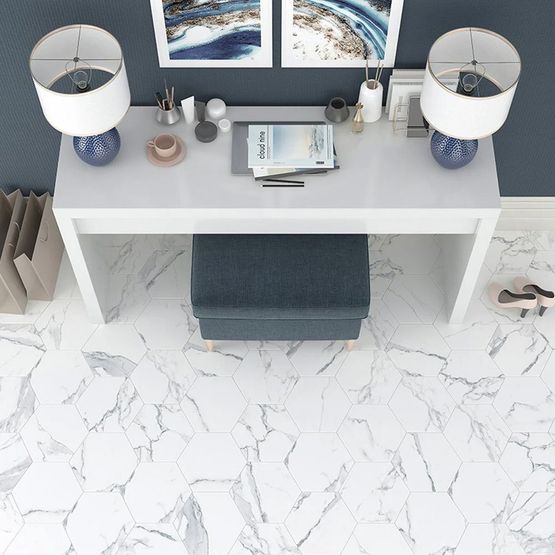 Placement and material
When you're starting your search, it's best to figure out where your tiles are going and what material is best. Different tiling materials are suited to different areas, so pre-determine any possible restraints beforehand. The last thing you want is to find a tile you love and end up not being able to use it. 
Wall or floor tiles?
Think about whether your tiles are being installed on your walls or floors. Wall tile thickness tends to be less than floor tile thickness, as the latter requires more strength to withstand different levels of footfall, though some tiles are interchangeable. Putting the 'tile' into versatile, these are fantastic for those who want to create a seamless transition between walls and floors, as well as make rooms look larger.
When choosing floor tiles, you should also consider foot traffic. High-traffic areas typically include kitchens and lounges, while bathrooms are prone to lower traffic. Depending on your application, you may require a tile material that is more durable and hard-wearing to tolerate this. It can immediately narrow down your options in terms of material but don't fret – with the vast range of tiles on the market, this shouldn't hinder design and style.
Tile shape
The shape also comes into play here. Tiles with a square, rectangular or hexagonal shape are ideal for various aesthetics and styles across walls and floors. Rectangular tiles make spaces seem bigger and can be laid in herringbone or brickbond patterns, while square tiles form contemporary designs and hexagonal tiles are perfect for creating unique feature walls.
---
What types of tiles are there?
There is an expansive range of tile types on the market, so you can easily get lost when trying to navigate your way through it. Here at Tiles Superstore, we offer a range of tiles, including various ceramic tiles, porcelain tiles, glass tiles and luxury vinyl flooring.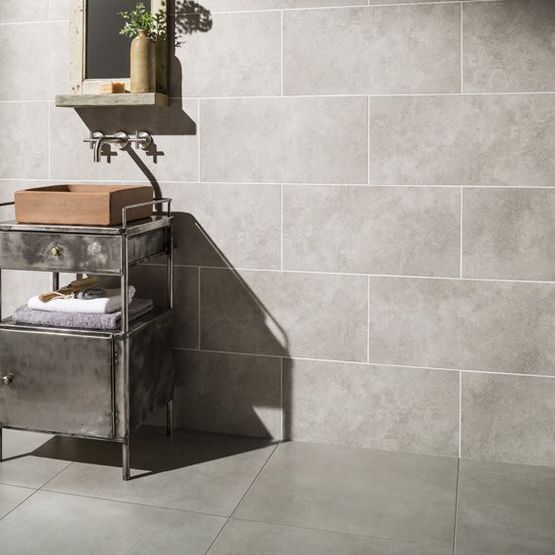 Ceramic tiles
One of the most popular options for tiling, ceramic tiles are constructed from different clays. They can be purchased in a variety of styles with glazed and unglazed options for a cost-effective solution ideal for indoor environments with low levels of foot traffic. Ceramic tiles are suited to cutting before fixing and can withstand high-humidity conditions.
Porcelain tiles
With high durability and strength, porcelain tiles are often more hard-wearing than ceramic as they are fired at higher temperatures. This makes them well-suited to indoor spaces with heavy levels of foot traffic or even outdoors if they have frost protection. While porcelain tiles are ideal for walls, they tend to be heavier than ceramic tiles, so applications should depend on adequate wall structure. These tiles come in numerous finishes, including glazed, unglazed or polished, and are easy to maintain with resistance to scratches and abrasions.  
Luxury Vinyl tiles (LVT)
With great resistance to water and scratches, luxury vinyl tiles are a hard-wearing option.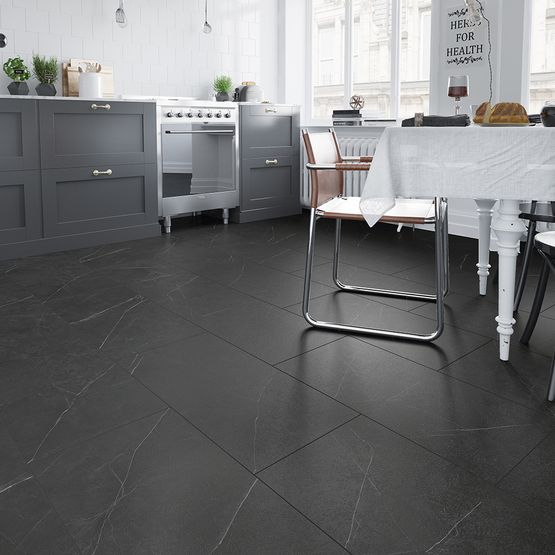 They make a great alternative to porcelain and ceramic when you're looking for something less cold in the winter and when you don't want the appearance of grout.
LVT lasts well when installed in high-traffic spaces and provides a diverse range of styles that resemble wood, stone and ceramic. 
Glass tiles
If you're aiming for a sleek and shiny appearance, glass tiles are brilliant. Their glossy finish reflects light, making compact bathrooms look larger and more appealing as they form a vibrant and spacious look. You can acquire glass tiles in solid colours or mosaic patterns, allowing for captivating accent walls. These tiles are simple to maintain and highly durable, but it's important to consider they may come at a higher price point than ceramic tiles. 
---
Is there a big difference in tile quality?
Tile quality often comes down to the benefits that different materials offer. Water resistance is an important one, alongside low porosity, as this determines whether your tiles are suitable for kitchen splashbacks and bath and shower rooms. Porcelain and ceramic tiles generally offer more water resistance than others, so you might want to consider these for your bathroom revamp or kitchen project.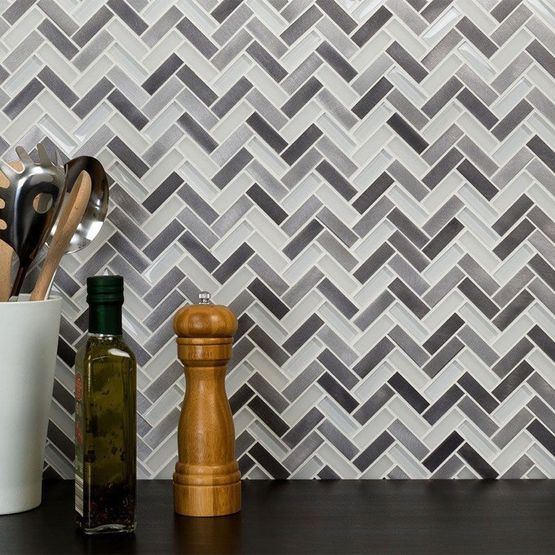 Tiles also carry ratings with them. While these ratings may not necessarily equate to quality, they will dictate longevity and suitability. 
W.A. ratings
Tiles can be categorised based on Water-Absorption (W.A.) ratings, which determine their suitability for outdoor use or installation in damp areas such as bathrooms. The W.A. ratings range from Non-vitreous and Semi-vitreous to Vitreous and Impervious. Non-vitreous and Semi-vitreous tiles have higher absorption levels, making them unsuitable for use in bathrooms.
PEI ratings
Porcelain Enamel Institue (PEI) ratings range from 0 to 5. This method of categorisation dictates the wear resistance and surface hardness of tiles. You can use a tile with a rating as low as 0 for application on walls, but floor tiles benefit from higher ratings. For commercial settings, such as retail centres, airports and spaces with heavy foot traffic, a rating of 5 is commonly used. 
R ratings
The R rating, also known as the Ramp Test method (R-Value), holds significant importance when evaluating bathroom floors due to their susceptibility to becoming slippery when wet. The Ramp Test values span from R9 to R13, with R9 indicating the lowest level of slip resistance and R13 representing the highest.
---
How do I calculate what size tile I need?
Tile sizes vary. What constitutes a suitable size for your project will rely on room size and application size, as well as your personal taste.
You might find that larger tiles require too much cutting to fit in small rooms and that smaller tiles can make for difficult and lengthy installations in large spaces. These are two things to keep in mind when weighing up your options, as well as any obstacles that your tiles may have to fit around.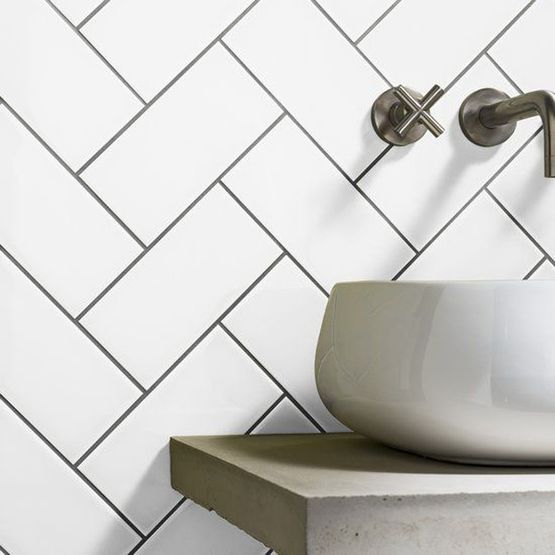 Small tiles look great in kitchens and bathrooms when used to create decorative splashbacks and offer a convenient installation in similar small spaces. Mosaic tiles are perfect for this with their small dimensions and appealing designs. If you're looking for a vintage or classical aesthetic, you will love tiles with ornate patterns or tiles with hexagonal shapes.
On the other hand, large tiles might work well if you want to maintain the effect of an expansive, open space. With fewer grout lines, they provide a seamless and even look.
---
How many tiles do I need?
To work out how many tiles you need, start by finding the area of your space. To do this, multiply the length and width. Be sure to accommodate any doors or obstacles and include an extra 10% in preparation for any breakages.
Next, calculate the area of your tiles using the same method (width x length). You can then divide the area of your space by the area of your tiles, giving you the number of tiles required. You can also use this calculation to decide how many packs you need – simply divide the number of tiles needed by the number in your pack.
For a more comprehensive guide, check out our article that explains how to measure for floor tiles and how to measure for wall tiles.
---
What tiling adhesive and tiling primer should I use?
The world of primers and adhesives can be confusing but don't worry. We've got your back. 
Tiling primer
Tile primers are great for improving the bond between the tile adhesive and the substrate you're tiling over. They decrease porosity and ensure thorough surface preparation while lowering the risk of cracked or loose tiles. So, if you're asking yourself whether you should use a primer, the answer is yes.
Typically, acrylic primers are advised for most applications as they form a hydrophobic layer. This defends the adhesive from moisture and ensures your tiles are longer lasting. For outdoor tiles, a slurry primer is recommended. Other primers can be bought for specific projects.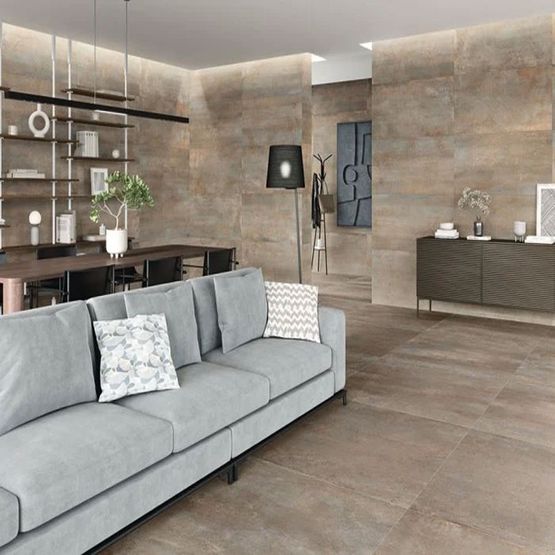 Tiling adhesive
A suitable tiling adhesive is integral to your installation. The adhesive you use will depend on what tiles you're using and where/what you'll be applying them to. It needs to fully support your tiles and keep them securely attached.
Ready-mixed paste adhesives are quick to use but are mostly limited to small ceramic tiles, so a powdered adhesive is usually the preferred choice.  Powdered adhesive does take a little more time to mix with water and isn't as straightforward, but the payoff is worth it.
For tile adhesive thickness, applications commonly require between 1cm and 3cm for wall tiles and around 3cm to 5cm for floor tiles. This is due to the stress that floor tiling comes under day-to-day. However, you should always consider the size and weight of tiles for a better idea.
---
Final Thoughts
From types of tiles to primers and adhesives, we've covered it all.
After reading this handy tile guide, you should feel confident enough that your next time buying tiles will be a dream. It might still seem confusing at first, but there's no need to panic. Next up is the fun part! You can take your new knowledge and let your imagination run wild as you explore the wide array of colours, shapes, patterns and finishes we have on offer at Tile Superstore.
Happy tiling! 
Was this guide useful?
Let us know if you liked the post. That's the only way we can improve.
Thanks for rating this article.
Mentioned in this project guide: