Whether you're renovating your current living space or embarking on a new project, real solid wood flooring gives an authentic and natural charm to your home. Not only will it transform your room with warmth and character, but it will also add value to your property. With an array of wood floor designs, colours and materials to choose from, you might not know where to start.
But fear not, that's why we're here! With this handy guide, we can help you figure out the best options to buy for real wooden flooring to suit your style.
---
Table of contents
---
What are the different types of solid wooden flooring?
With so many types of hardwood options available, finding the right species for your real wood floor can be an exciting and pivotal venture for enhancing your home. Without further ado, let's see what's the perfect fit for solid wooden flooring that will harmonise with your needs and aesthetic.
Oak
As one of the most popular options for solid wood floors, real oak flooring is a reasonably priced species of wood as well as highly durable and hard-wearing. Thanks to its light tones, you can stain it in almost any colour. With a distinctive natural grain pattern, it is perfect for concealing defects, like scuffs, dents, scratches and other minor mishaps, making it a great choice if you have any children or pets. What's more, it's easy to clean, so it'll have minimal maintenance requirements.

You might be surprised to find that there are two families of oak. Red oak will add warmth and character to your home with rusty or pinkish undertones and grain variations. On the other hand, white oak offers lighter beige and yellowy undertones and a smoother, more uniform grain texture with fewer variations.
Ash
As another lighter-coloured wood, ash is highly flexible and more robust than oak, making it ideal for high-traffic settings, such as hallways. An excellent addition to complement modern homes, it also features strong graining and light grey tones, which can be stained with a variety of colours. Due to becoming more readily available, it is gradually growing to be more affordable. However, it is less resilient against moisture, so not ideally suited to areas prone to spillages, like bathrooms.
Unfortunately, numerous ash trees are being destroyed by emerald ash borer beetles, an invasive insect originating from Asia. Due to the beetles killing too many of the trees, harvesting ash is no longer a sustainable solution. So, if you want environmentally friendly flooring, you might want to choose alternative options.
Maple
Thanks to being widely available, maple is a budget-friendly option for real wood floors, second only to oak in popularity. Sugar maple produces sap, resulting in an incredibly dense, sturdy finish with a fine, delicate grain. With vibrant tones ranging from pale reddish browns to light creamy whites, maple will deliver a sophisticated and visually pleasing aesthetic for your room. Furthermore, its hard-wearing nature makes it a superb choice if you have children and pets. It also requires minimal maintenance.
It might be worth noting that although maple will absorb neutral finishes, it can sometimes be difficult to stain. It also doesn't deal well with humidity or heat, so we recommend you consider your room's setting before installation.
Walnut
Boasting deep, dark tones, black walnut is the most durable option of all hardwood floors and is a terrific choice if you want to integrate mid-tones into your floor to create a warm and cosy environment that will last for generations. Its rich colouring and stunningly detailed graining with a predominantly straight and open pattern will elevate your home with a touch of luxury.
Giving a dynamic look to the material, the woodgrain creates a sense of movement, depth and liveliness with distinctive knots, textures and pattern variations which add to its uniquely rustic charm.
You'll find, due to limited supply, walnut will be significantly more expensive than oak and ash. It will also be susceptible to scuffs if you're moving your furniture around.
Beech
Featuring a closed, tight and uniform grain and warm, light tones, beech wood will create a smooth, consistent finish for your floor. It is slightly stronger and more resistant to impact than oak and is therefore suitable for moderate to heavy foot traffic. Withstanding wear and tear and sun exposure, it will stay in good condition without the necessity for touch-ups or repairs.

However, if you want to stain your flooring, beech wood might not be the right choice for your project. It will not absorb staining as well as other types of wood due to its small pores, but if you're looking for a natural finish, beech will make a fantastic addition to your property.
---
What is the best thickness for solid wood flooring?
While every project has its unique requirements, ¾-inch or 19-millimetre thick flooring tends to be the most popular and best choice for wooden floors. You'll also find that the thicker the flooring, the longer it will last. So, the more you invest, the better the results for a lasting finish.

---
What are the advantages of solid wood flooring?
Perfect for creating a timeless and elegant aesthetic within your home, solid wood flooring is a lasting investment that only gets better with age. Boasting exceptional durability, it can withstand everyday foot traffic and wear and tear, lasting for hundreds of years. With proper care and maintenance, it gracefully matures, enhancing its natural beauty for decades to come.
Not only will it give a premium, luxurious feel and appearance to your space, but it will also add value to your home and make it more desirable if you want to sell up and move on. Unlike carpets that can trap dust, pet fur and allergens, it is significantly easier to clean and more hygienic. All you need to do is sweep your floor to keep it looking neat, while spillages can be effortlessly wiped with a damp mop.

In addition, solid wood floors can be sanded and refinished multiple times. This process allows you to refresh the surface, remove scratches and change the stain colours, essentially giving your floor a new lease of life without the need for replacement. This makes them a perfect addition to high-traffic areas like hallways and living rooms.
---
What are the disadvantages of solid wood flooring?
Unfortunately, solid wood flooring needs a fair bit of maintenance to keep it in pristine condition, with frequent treatments and polishing required. Spillages will need to be mopped up rapidly or risk causing irreversible damage. Genuine wood is also susceptible to changes in humidity and moisture. Excessive moisture will cause it to expand, warp or buckle. Therefore, real wood floors are not recommended for areas with high humidity or potential exposure to water, such as bathrooms or kitchens.
It is important to note that direct sunlight and high temperatures may cause warping in solid wood flooring. If you plan to install underfloor heating, it is advisable to consult with the manufacturer of your underfloor heating system to ensure that the solid wood flooring you select is fully compatible. Additionally, hardwood floors are prone to marks and scuffs from moving furniture and heavy foot traffic. High heels are especially damaging on solid wood floors, so it's best to avoid wearing them inside.

While solid wood flooring tends to be more expensive than other flooring options, such as laminate or engineered wood, its higher cost is due to the premium nature of solid wood and the labour-intensive installation process. It can also be noisier than other flooring types, especially in multi-storey homes, which might cause issues in certain living situations.
---
Laying a solid wooden floor
Before installation, your solid wood flooring needs to acclimate to the room's environment for a period, typically a few days. This step is essential to prevent potential issues, like gaps or buckling after installation.
It's also a good idea to double-check what material your subfloor is so you can plan ahead. If you want to install a floating floor, make sure to get a suitable underlay for your subfloor's surface. Your subfloor must be completely dry, stable, smooth and flat before starting to fit your floorboards.
Laying real wood floors can be more complex and time-consuming compared to other flooring types, especially if it's a glue or nail-down installation. Some types of flooring come with tongue and groove edges, ensuring a quicker and easier installation process.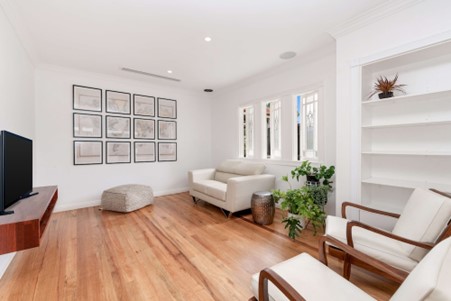 You might be wondering if you can do it yourself, but this will depend on your experience and abilities. To ensure a secure, stable and long-lasting installation, you may want a skilled professional to do the job.
---
Is solid wood flooring worth it?
So, should you take the plunge and purchase solid wood flooring? Buying solid wood floors is undoubtedly worth the investment if you're seeking a timeless and refined flooring solution. Its exceptional durability ensures it can withstand everyday foot traffic and wear, lasting for years to come with proper care and maintenance. The ability to sand and refinish multiple times allows for a refreshed appearance, making it ideal for your hallway, living room or dining room. Despite requiring some maintenance and being relatively more expensive than other options, the enduring beauty, natural charm and long-term benefits outweigh the hardships.

Was this guide useful?
Let us know if you liked the post. That's the only way we can improve.
Thanks for rating this article.
Mentioned in this project guide: