When it comes to outdoor flooring ideas, you might find yourself less than floored with the initial options. But rest assured, there is so much more than meets the eye with garden flooring.
With a range of materials, colours and finishes, we at Tiles Superstore offer an assortment of outdoor flooring options. From compound decking to artificial grass, you're sure to find the right option for your garden, especially with the help of this useful guide. 
---
Table of Contents
---
How to choose outdoor flooring?
Strength and maintenance
When deciding on your outdoor flooring, you'll want to choose an option that is durable enough to withstand changing weather conditions and its given application. If it's used often, you'll need it to endure high levels of footfall, so always keep that in mind. You should also think about the climate in your area – will your flooring need added frost protection? Will it need to resist fading in the sun?
In terms of maintenance, outdoor flooring will vary in what it requires. Some can be washed with a hose or power washer, while other options need certain treatments. Levels of maintenance will vary too, so you should consider this. Judging by your lifestyle, will you be able to commit to regular maintenance? Or will you benefit from an option that only needs occasional cleaning and weathers naturally?
Installation processes
Think about your skill level. Do you have a lot of DIY experience? Have you ever tackled a project like this before? Are you new to the world of DIY? This can affect which type of outdoor flooring you want to go for. You want something that you can install without much hassle and that can be achieved with your current arsenal. If not, there'll be additional time and labour costs, and by the time you've purchased the relevant items and specialist tools, you could be left with a very empty wallet.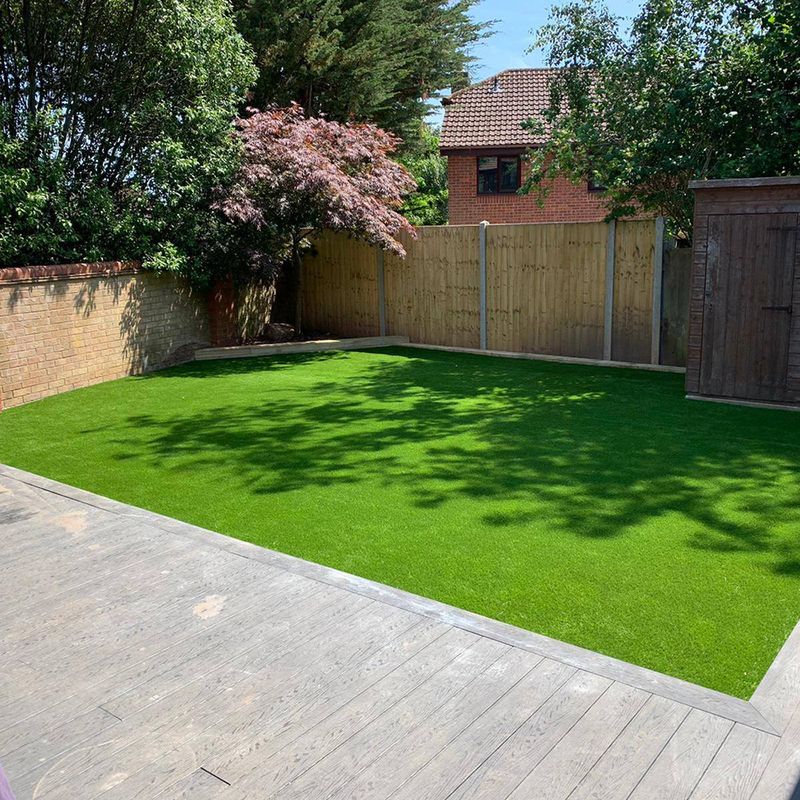 Children and pets
Having children and pets is an important consideration for your garden flooring. There needs to be a suitable level of safety in place for any falls or bumps, as well as a long-lasting element that can withstand the presence of dogs and cats. You'll want to pick an option that has high slip resistance when exposed to water and high scratch resistance to endure claws, and maybe something soft under hand and foot.
Why not invest in outdoor play area flooring? These are great for young children and can come in a range of colours, so you don't need to sacrifice aesthetics to achieve some additional safety.
Aesthetics
While you want to focus on price, durability and maintenance, there's also a lot to be said about the aesthetic of your outdoor flooring. Picking something that complements the design and style of your home and garden is equally important, so opt for flooring that gives you versatility in this area.
If you'd rather maintain the natural finish and the authentic colour of your material, there's no reason this can't look appealing. Think about the pattern when you lay your products as this can look just as enticing. For instance, tiles and paving look excellent in brick bond and diamond patterns.
---
Types of outdoor flooring 
There is a whole array of outdoor flooring choices out there, but here at Tile Superstore, we offer a range of composite decking, outdoor tiling, outdoor paving and artificial grass options. Each of these has its own advantages. 
Composite decking
Due to the range of colours and finishes, composite decking boards are a great option for gardens with stylish designs. Composite decking can add some much-needed depth and texture to your garden, especially in small spaces, and requires far less maintenance than regular wood. It offers extra resistance against scratches and abrasions and has low slip qualities, making for a safe and easy choice.
It's worth mentioning that colours may darken over time and that, while very close, the look of composite decking may not replicate that of real wood completely. Composite decking can also be fairly expensive, but it can be worth the price in exchange for its durability, longevity and simplicity.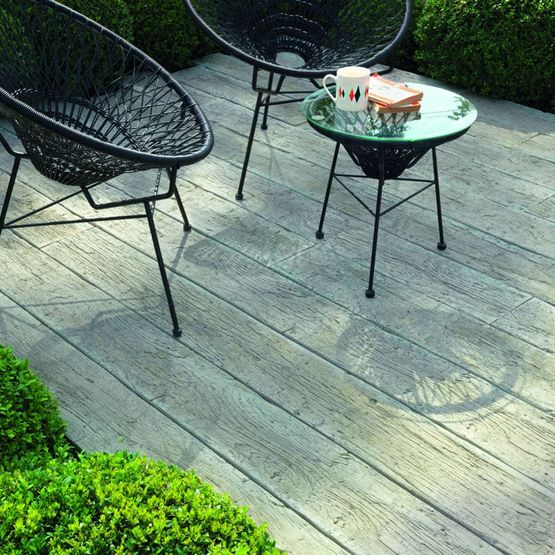 Outdoor paving
Not only durable and versatile with concrete, stone and brick materials, but outdoor paving is a low-maintenance and easy-to-install option. With hard-wearing surfaces that can tolerate high foot traffic, it can be cleaned when necessary, using a garden hose and laid out or replaced with simple processes. Outdoor paving is fantastic for seating areas and walkways in your garden. With its different colours, sizes and shapes, you can fit it into almost any design or aesthetic for the stunning outdoor space you've always wished for.  
Certain paving, such as concrete, can be susceptible to staining. Due to this, you'll need to seal your paving slabs with the appropriate products, which can be time-consuming and might increase costs. 
Outdoor tiling
Outdoor flooring tiles are a brilliant option for installation over concrete floors and old tiles. They come in a range of materials and styles, including porcelain, concrete, brick and stone effect, and are easy to maintain throughout their use with water. As long as you clean the grout at regular intervals, outdoor tiles offer consistently pleasing appearances that withstand various weather conditions.
With the many options when it comes to size, colour and pattern, outdoor tiles excel in both physical and aesthetic integrity. Not only hard-wearing but outdoor tiles can be suited to a range of aesthetics, meaning that there will always be an option for your garden. However, you'll find that outdoor tiling can be expensive and will need quite a bit of effort to lay depending on how large the tiles are.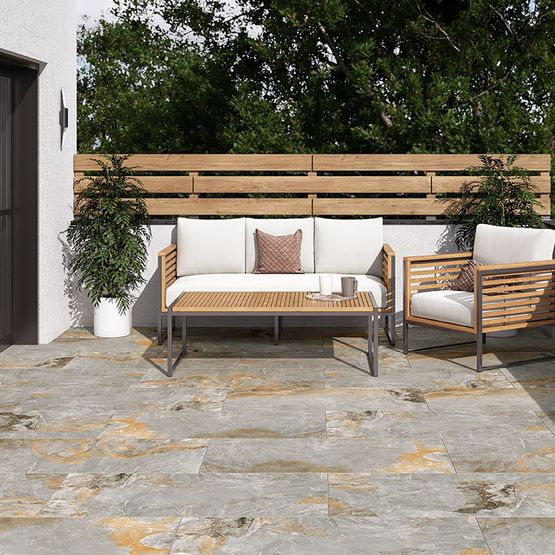 Artificial grass
If your lifestyle doesn't easily accommodate lawn maintenance, a more practical outdoor flooring idea is artificial grass. Made from plastic-based materials, artificial grass is weather-resistant and suited to installation virtually anywhere. It can be purchased in different colours and requires minimal maintenance compared to real grass, with just a brush to free it of any debris when needed.  
While easily installed and lovely to look at, you'll find that your artificial grass will gradually start to lose its fibres, especially if under constant use with pets and children. It can also be pretty expensive, so it's worth weighing up its pros and cons with our artificial grass buyer's guide.
---
Outdoor flooring ideas over concrete
There are a range of flooring options for use over a concrete floor outdoors, including concrete and brick pavers, artificial grass, vinyl, and more. You should always make sure your concrete floor is as level as possible, as well as clean before anything is adhered to.
As for outdoor flooring over dirt and grass, interlocking patio and deck tiles are great. They are incredibly versatile across different surfaces and offer easy installation. Other useful options are rubber tiles and artificial grass.
---
What is the best flooring for an outdoor play area?
If you have young children and are in of some outdoor play area flooring ideas, bonded rubber mulch flooring is high in popularity. Made from recycled rubber and designed to last, it is an easy, flexible and eco-friendly option for a variety of garden spaces.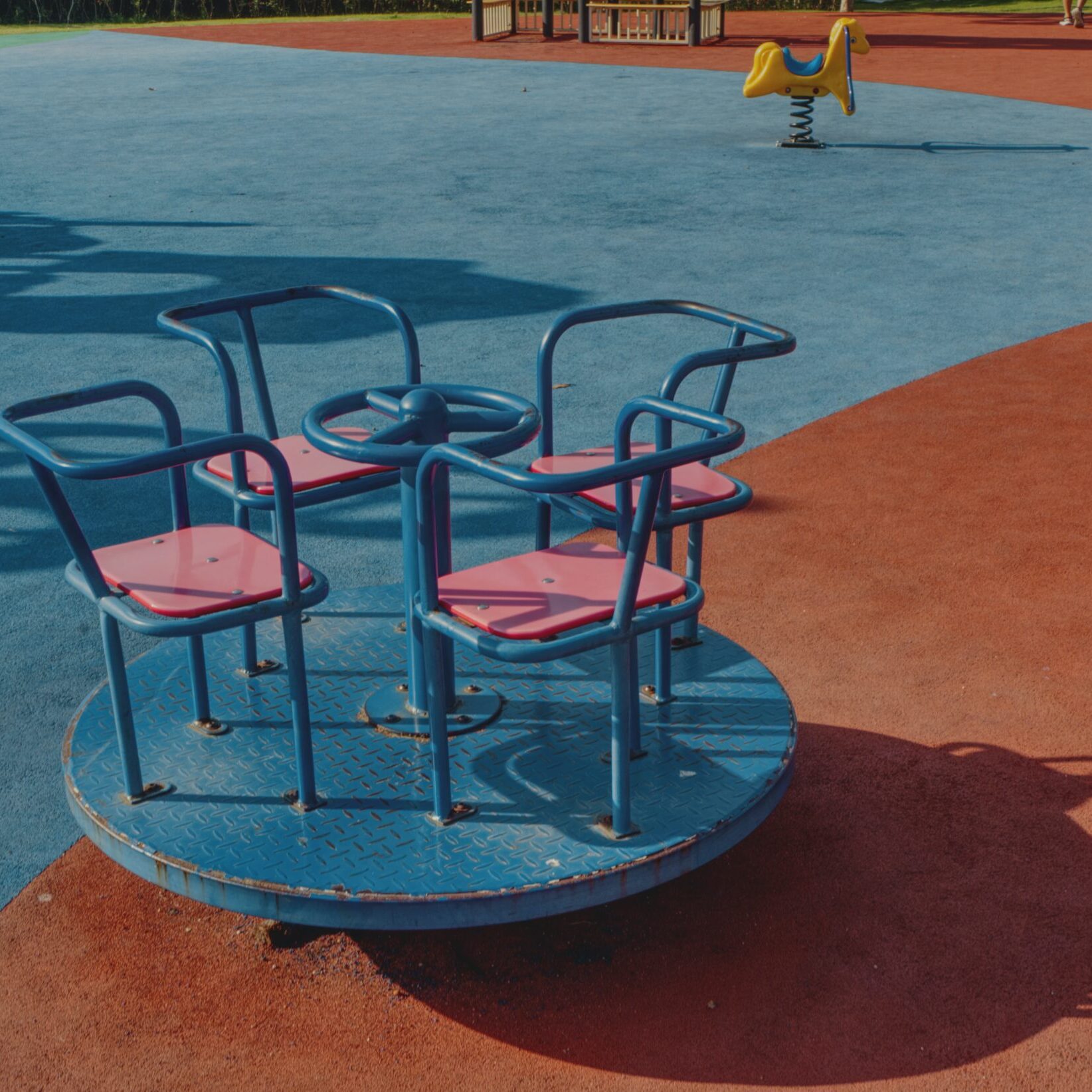 Bonded rubber mulch flooring enhances safety and softens the blow of falls and tumbles, making it perfect for laying beneath swing sets and seesaws. It also offers great drainage and numerous colour options while being easy to maintain. 
---
What outdoor flooring is not slippery?
If you're on the hunt for non-slip flooring for outdoors, options with high slip resistance tend to be textured with coarse surfaces. Concrete and brick tiles are usually the better choices compared to materials with smooth finishes, but anti-slip sealants can always be purchased for use with your outdoor flooring. Just make sure that it is suitable for your application before applying.
---
Final Thoughts
At Tile Superstore, we're not just here to help you pick a floor – we're here to help you jazz up your garden with some garden flooring ideas. With more materials and finishes than you can imagine, our outdoor flooring options will make your garden flooring look as fantastic as your indoor flooring.
Whether you're dreaming of decking for an eating area, sleek tiling that is kind on the eyes, or faux grass that's greener than your neighbour's real lawn, we've got your back.
Hold onto your gardening gloves because now your eyes have been opened to the world of outdoor flooring ideas, it's time to take the plunge! We've inspired you, so it's your turn to find the perfect outdoor flooring.   
May your journey be as smooth as a freshly laid patio.   
Was this guide useful?
Let us know if you liked the post. That's the only way we can improve.
Thanks for rating this article.
Mentioned in this project guide: