Is your bathroom just kind of… there?
Maybe it's dull and plain, maybe it's the complete opposite of your desired aesthetic, or maybe it fails to make you feel special. Whatever the case, it doesn't have to be this way. It can be fixed.
Bathrooms should be spaces of relaxation. Special havens that give you time to care for yourself and unwind after a long day. So, if you want to revamp your bathroom and turn it into a serene, soothing sanctuary that you'll love to spend time in, why not start with bathroom tiles?
Bathroom tiles are a great way to implement your style, and with a wide selection of tiles out there to choose from, the sky is the limit. And if you have no idea where to start or how to choose bathroom tiles, don't worry. We've made this handy guide to help you out.  
Let's get started, shall we?  
---
Table of Contents
---
What
types of bathroom tiles
are there?
When it comes to types of bathroom tiles, a wide range of materials is available. While each has its variety of benefits, different materials can be more or less suited to particular bathroom applications. At Tile Superstore, we offer numerous ceramic, porcelain and glass tiles that can help you craft your dream look.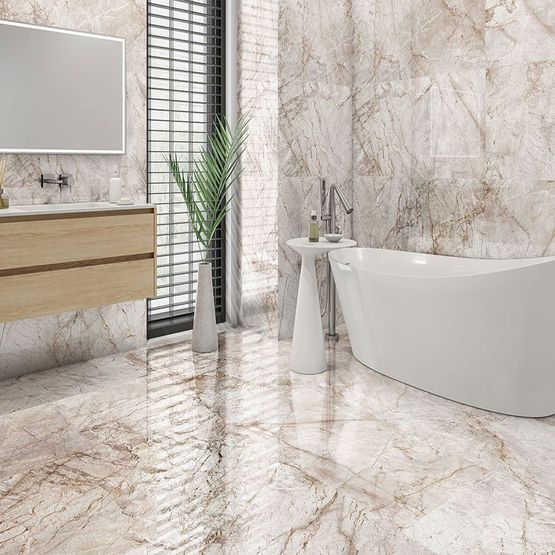 Ceramic tiles
Comprising an array of styles and designs, ceramic tiles are a highly favourable tiling option, crafted from various clays. They come both glazed and unglazed and are a cost-effective choice that works exceptionally well in low-traffic indoor environments. These tiles can be cut before installation and endure high-humidity conditions with ease.
Porcelain tiles
Porcelain tiles boast remarkable durability and strength, surpassing ceramic tiles due to being fired at higher temperatures during their production. This makes them particularly suitable for indoor spaces with heavy foot traffic, and they can even be placed in outdoor areas, provided they have frost protection. When using porcelain tiles on walls, it's essential to ensure the wall structure can support their weight, as they tend to be heavier than ceramic. They also come in a variety of finishes, including glazed, unglazed, or polished, and are effortless to maintain, offering resistance to scratches and abrasions.  
Glass tiles
When glossy finishes with high shine are what you're looking for, glass tiles are perfect. Light bounces off their surfaces, which suits smaller bathrooms by giving them a bright, open feel. You can purchase your glass tiles in block colours and mosaics for appealing feature walls, and they are easy to clean and hardwearing. However, they usually cost more than ceramic tiles, so that's something to bear in mind.
---
What to look for when buying bathroom tiles?
Before you buy bathroom tiles, we recommend you think about a few things first.
Size
Bathroom tiles come in a range of sizes, meaning that you can select the size that best suits the dimensions of your room. Your personal preferences will play a role in the decision-making process but it's worth remembering that tiles that are too large can require a lot of cutting in small rooms, while smaller tiles might lead to complicated and time-consuming installations in larger areas.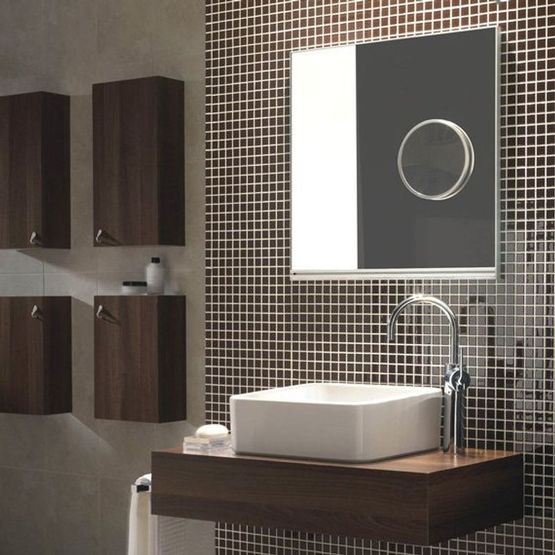 For bathrooms, small tiles are an excellent choice for creating a backsplash, and they work well in compact spaces. They are lightweight and offer easy installation, adding a vintage or classical aesthetic, especially when they come in unique hexagonal shapes or elaborate patterns. Mosaic tiles are especially suited to this as they come in small dimensions with appealing designs. On the other hand, if you desire a sense of spaciousness and openness, large tiles are your best friend. They create a seamless look with fewer grout lines, providing an expansive and uniform appearance.
R rating and PEI rating
Another way of deciding whether a tile is right for you is by checking its ratings. Usually, tiles get rated according to suitability across different areas, which proves helpful in decision-making. 
The Porcelain Enamel Institute (PEI) utilises a rating scale from 0 to 5 to categorise tiles based on their wear resistance and surface hardness. For wall applications, tiles with a rating as low as 0 can be used, but for flooring purposes, it is recommended to use tiles with higher ratings. If your application is in a commercial setting, including retail centres and airports prone to heavy foot traffic, tiles with a rating of 5 are advisable. 
The tile R rating – the R (Ramp Test method) Value – is particularly important to consider for bathroom floors as they are guaranteed to get slippy when wet. Ramp test values range from R9 to R13, with R9 being the least degree of slip resistance and R13 being the most. 
Water Resistance
Water resistance and low porosity are pretty significant for bathroom tiles. Alongside glass tiles, porcelain and ceramic tiles generally exhibit better water resistance and lower porosity than other options. So, if you're planning a bathroom upgrade, considering porcelain, ceramic and glass tiles would be a wise choice.
Tiles can also get rated in terms of W.A. (Water-Absorption), which helps to dictate whether they are compatible with the outdoors or in damp areas. The W.A. ratings include Non-vitreous, Semi-vitreous, Vitreous, and Impervious, with Non- and Semi-vitreous tiles being unsuitable for bathrooms due to their high absorption levels.
Wall tiles Vs. Floor tiles
When it comes to wall and floor tiles, there are some differences which need to be considered. The best floor tiles for bathrooms are often thicker and have more durability to withstand footfall, alongside anti-skid and slip-resistant qualities, allowing for increased safety and practicality. As for the best tiles for bathroom walls, they tend to be lighter. It's important to note that wall and floor tiles aren't interchangeable unless stated otherwise.  
---
What is the most popular colour for bathroom tiles?
It's hard to pinpoint the most popular bathroom tiles. There are so many options, and it all depends on the style you're looking to achieve. Some people might love bright solid colours, such as pink and green, whereas others might want something simple and classy such as grey or black. If you're unsure of the aesthetic you want, why not try a neutral colour scheme? White, beige and other light tones can be paired with most fittings and accessories.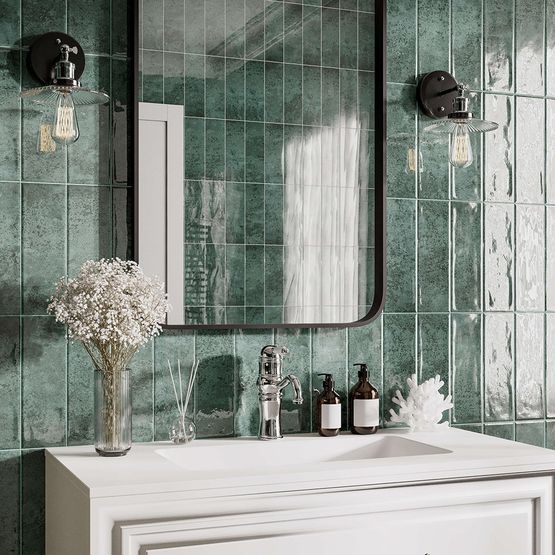 A classic, versatile and ever-pleasing option is subway tiles. Available in a selection of colours and patterns, they never seem to go out of style, making them suitable for both traditional and modern bathroom designs. There are also mosaic tiles, as we mentioned earlier, which are very popular because they make an easy way of incorporating colours and character into your space. With a more recent rise in popularity, hexagonal tiles have jumped up the ranks. They're perfect for adding a point of interest with a geometric shape that can elevate your bathroom walls.
There is also a vast range of marble effect tiles made from durable porcelain and ceramic that look elegant and luxurious. With their sleek finishes and intricate veining, these tiles are ideal for spaces wanting to resemble high-end bathrooms. They are also a cost-effective alternative to authentic marble that requires less maintenance. What's not to love?
---
What colour tiles make a bathroom look bigger?
Neutral bathroom tiles in shades of white, off-white, beige, light grey and taupe are incredibly popular due to their versatility. When installing neutral-coloured tiles, the rest of your bathroom can follow suit to create a harmonious and minimalist look. Likewise, they look fantastic in traditional bathrooms inspired by Victorian designs or with urban aesthetics that include striking black fittings for a monochromatic look.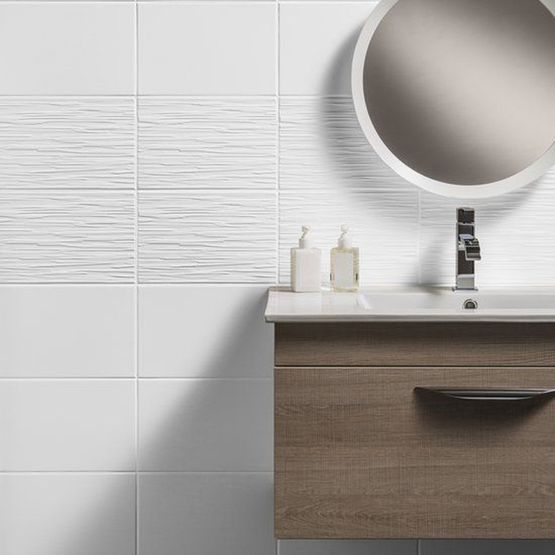 Not only do they suit a range of styles and coordinate well with almost any décor, but they also make spaces look more spacious. If your bathroom is cramped and lacking natural light, white tiles help to open up the room and make it seem brighter and more inviting.
However, this doesn't mean that other colours can't be used. Why not incorporate a feature wall with a decorative bathroom tile for a unique look? This can be a great way to obtain the style you want without making your bathroom look smaller. Likewise, accessories, décor and fittings are other great and simple ways of including extra colour.
---
How many tiles do I need?
To determine the number of tiles needed for your space, begin by calculating its area. Multiply the length and width, considering any doors or obstacles. Additionally, include an extra 10% to account for potential breakages.
Next, figure out the area of your tiles using the same method (width x length). Divide the area of your space by the area of your tiles to obtain the number of tiles you need. If you're trying to find out how many packs you'll need, divide the total number of tiles required by the quantity in each pack. 
For a more comprehensive guide, refer to our article that explains how to measure for floor tiles and wall tiles accurately.
---
Final Thoughts
Well, would you look at that? A whole guide on bathroom tiles to inspire you to turn your boring bathroom into a luxury oasis.
We told you we can help you fix it!
Now that we've covered the features of bathroom tiles and popular options, it's time for you to put your new knowledge to good use. Venturing into a new bathroom design can feel a bit daunting, but all you need is that little confidence boost. We know you can do it, so why not check out our range of bathroom tiles and find the perfect set for you? With our vast selection of styles and designs, you're sure to find what you're looking for. 
Was this guide useful?
Let us know if you liked the post. That's the only way we can improve.
Thanks for rating this article.
Mentioned in this project guide: