So, you're trying to buy kitchen tiles but struggling with where to start?
You'll be relieved to hear you're not the only one.
With so many types of tiles, they can be hard to navigate. It's only natural to feel a bit overwhelmed by the different sizes, styles and materials. It might begin to feel a bit like sink or swim but don't worry. We're here to keep you afloat.
Our kitchen tiles buyer's guide will give you a rundown of the types of kitchen tiles there are, advice on how to choose the right ones for you, and help you figure out which colours will match your aesthetic. So kick back, relax and get reading. 
---
Table of Contents
---
How to choose kitchen tiles
When it comes to choosing kitchen tiles, you'll want to consider whether they are suitable for your space. This can be determined by looking at their various ratings, which grade properties such as slip resistance, their water resistance/absorption, whether they are for your kitchen walls or floors, and if they're easy to clean.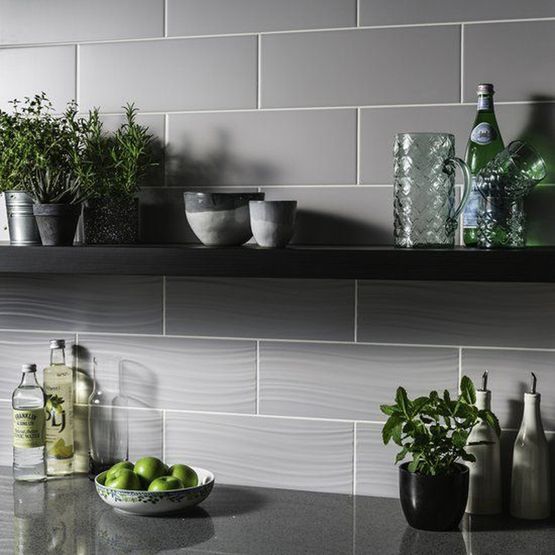 R rating and PEI rating
Understanding whether a tile is suited to your needs or not can be tricky. It's why tiles typically include ratings that help indicate how appropriate they are across applications. Ratings are incredibly useful and lend a helping hand when making informed choices.  
When accounting for durability and surface hardness, the Porcelain Enamel Institute (PEI) employs a rating system ranging from 0 to 5. Low ratings of 0 are appropriate for wall installations, but for kitchen flooring and commercial environments such as retail centres and airports with heavy foot traffic, tiles with a rating of 5 are highly advisable.
You also need to look at the R rating – the R (Ramp Test method) Value. This is most relevant for floor tiles in rooms exposed to water or spillages, so it can be useful for kitchens as floors are liable to get wet. The Ramp Test values span from R9 to R13, with R9 indicating minimal slip resistance and R13 signifying the highest level of slip resistance.
Water Resistance
Your kitchen will benefit significantly from tiles with water resistance and low porosity. Whether used for floors or a backsplash behind your kitchen sink, your tiles will be exposed to water, moisture and humidity, so it's best to choose an option with high resistance. When compared to other tiles, porcelain and ceramic tiles generally excel in this area. So, for your upcoming kitchen renovation, you can trust that porcelain or ceramic tiles are a safe choice.
When trying to determine your tile's water resistance, look for the Water-Absorption (W.A.) rating. This rating advises whether a tile is suited to use in outdoor areas or damp environments, ranging from Non-vitreous and Semi-vitreous to Vitreous and Impervious categories. Notably, Non-vitreous and Semi-vitreous tiles, due to their higher absorption levels, are ill-suited to damp and humid conditions.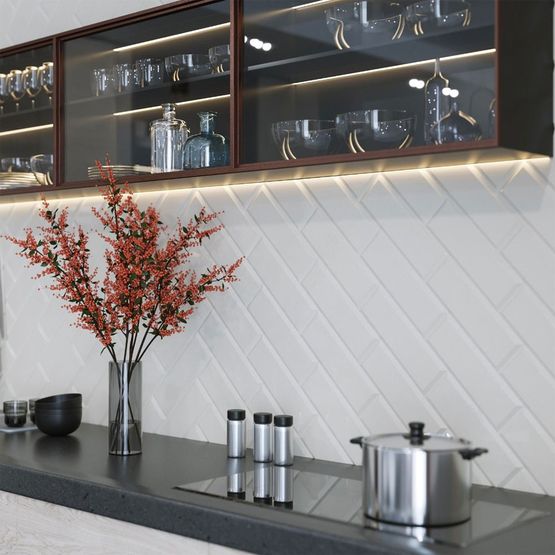 Wall tiles vs Floor tiles
Whether for your kitchen floor or a protective yet decorative backsplash for your kitchen sink and worktop, where you intend to lay your kitchen tiles will influence your decision of which tiles to buy. It's important to understand that wall and floor tiles have some distinct differences.
While your kitchen walls will require light tiling options as they won't need to withstand footfall, floor tiles are quite the opposite. Your kitchen is usually one of the busiest rooms in the house, meaning that floor tiles need to be thick and durable to endure high levels of foot traffic. You might be tempted by the cheapest kitchen floor tiles, which is understandable as tiles can cost a lot of money. But bear in mind that money can equate to quality. To ensure longevity and resilience, you might have to splash some cash. Try to find the best of both worlds.
Wall and floor tiles should not be used interchangeably unless specifically stated, so don't put wall tiles on your floors and vice versa. If you're looking for a cohesive look, find a tile appropriate for both walls and floors. These are super handy, and you won't have to worry about compatibility.
Easy cleaning
Hygiene always plays an important role when it comes to tiles, but when it comes to kitchen tiles, it is a must. As the place where you prepare food and cook delicious meals, it is crucial that your kitchen tiles are easy to clean and maintain. This will save you valuable cleaning time and ensure your kitchen is always spotlessly clean, protecting you and your family from potentially harmful germs and bacteria. The two types of tiles we offer here at Tiles Superstore, porcelain and ceramic, are ideal for this.
---
Which type of tiles is best for [your] kitchen?
 Ceramic tiles
Crafted from a variety of clays and consisting of a diverse range of styles and designs, ceramic tiles stand out as a popular choice for tiling. With both glazed and unglazed variations available, these cost-efficient tiles can excel in indoor spaces with light foot traffic and high levels of humidity. They also offer the added benefit of being easily cut before installation, making for an adaptable and versatile option across numerous applications.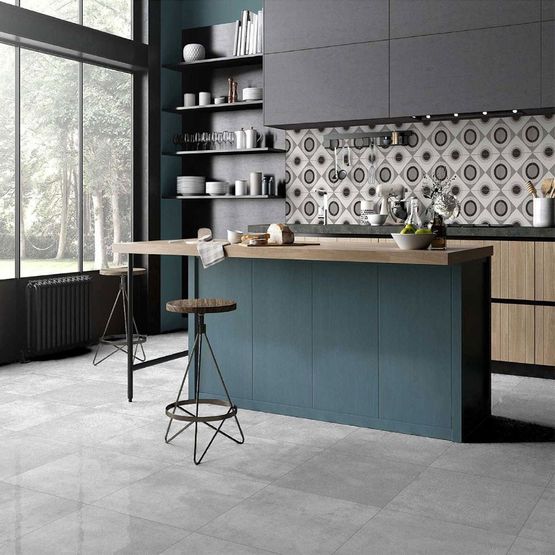 Porcelain tiles
Fired at exceptionally high temperatures when manufactured, porcelain tiles exhibit impressive robustness and resilience. They come in an array of glazed, unglazed, or polished finishes and demand minimal upkeep as they display fantastic resistance against scratches and abrasions. Since they are stronger than ceramic tiles, porcelain tiles are fitting for interiors with substantial foot traffic, as well as in outdoor areas if equipped with adequate frost protection. If porcelain tiles are applied to walls and vertical surfaces, you must make sure the wall can bear their weight as they are often heavier than their ceramic counterparts.
---
Are big tiles better in a small kitchen?
Since kitchen tiles are offered in a variety of sizes, finding the right size for your application should be a pretty seamless process. You probably have an idea of whether you prefer tiles that are large or small, but it's worth considering how they'll work in the space you have.
So, are big tiles better in a small kitchen? While big kitchen tiles can contribute to the illusion of more space, tiles that are too large can require a lot of cutting in small rooms. It's much the same for smaller tiles in large rooms – they can cause complicated and lengthy installations, so you should bear this in mind as you decide.
Generally, you'll find that small tiles are the best choice for your kitchen backsplash. Both lighter in weight and easily handled, small tiles suit compact areas above countertops and under extraction fans. Depending on the aesthetic you're looking for, you'll find the mosaic tiles are ideal for this with their elaborate patterns, pleasing designs, and small dimensions. For floors with seamless appearances, larger tiles offer fewer grout lines and create an open look.
---
What's the best colour for kitchen tiles?
When decorating your kitchen, colour is vital. Different colours of tile can suit different aesthetics and designs while creating different moods and atmospheres. Before you buy your tiles, spend some time figuring out what kind of style you're looking for. 

Block colours
Block colour tiles are tiles of a single colour. Bright block colours create a joyful interior and contribute to modern styles, whereas shades of grey and black exude sophistication and elegance and tie in well monochromatic, urban appearances. Warm yellows, oranges and reds are extremely welcoming and suited to rustic styles, while cool blues and greens form nautical aesthetics and relaxing environments.
If you're only seeking a hint of colour, why not incorporate it into your kitchen backsplash? These areas tend to be small and fairly discrete, making them perfect for a unique element that ties into your furnishing without overwhelming your kitchen. 
Neutral tiles
Perhaps you're looking for a kitchen design that is a little less specific and creates a versatile and timeless look. If so, you could always try a neutral colour scheme for your kitchen tiling. White, beige and other light tones perfectly complement most fittings and accessories. They also make kitchens look bigger and reflect light, which is ideal for small spaces in need of added brightness.
One of the reasons that neutral-coloured tiles are so popular is that they excel in their versatility. You can equip your kitchen with tiles that match your neutral furnishings, countertops and cabinets for a cohesive and minimalist look. Vice versa, neutral tiles look great in farmhouse-style kitchens as they create a neutral foundation for a range of wood tones and rustic details, as well as for classic designs with Victorian or Edwardian-inspired elements.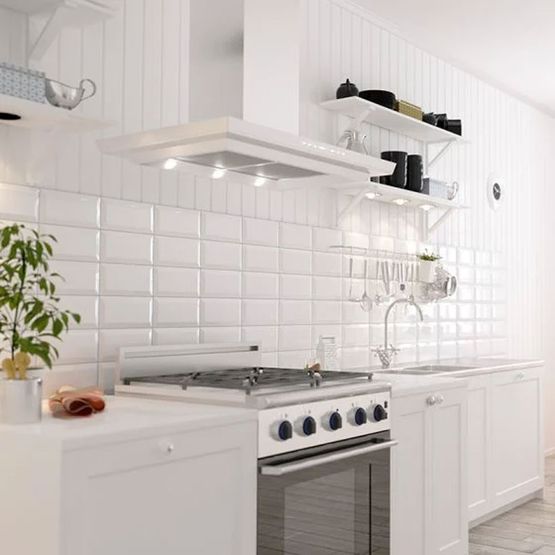 Neutral-coloured tiles don't have to be generic, either. If you're hesitant to add colours but want to create a feature of interest, try playing around with shapes and patterns. Tiles with a square, rectangular, or hexagonal shape work fantastically for different appearances and design choices on both walls and floors. For added spaciousness, rectangular tiles look amazing in herringbone and brick bond patterns, whereas square tiles lend themselves to modern designs, and hexagonal tiles excel in crafting distinctive feature walls. Your tiles can be arranged in various patterns, such as diamond designs, to form stunning feature walls and elevate the aesthetic integrity of your kitchen. 
Marble effect tiles
Likewise, marble effect tiles are a much-loved option on the market. Manufactured from durable porcelain and ceramic, they form the look of high-end kitchens with matt and gloss finishes and authentic, intricate veining patterns featuring greys, golds and other pleasing hues. Not only high in visual appeal, but these tiles are also cost-effective and easy to maintain compared to genuine natural marble.
---
Should I use dark or light floor tiles in a kitchen?
One of the best things about picking out coloured tiles for your kitchen is that there are no rules. It's your kitchen, so as long as your tiles are suitable for installation, the world is your oyster. This logic also applies to your kitchen floors: if your tiles withstand heavy footfall and include the correct ratings and dimensions, you can choose whatever colour your heart desires.
The decision of whether to use dark or light-coloured tiles for your kitchen floor rests entirely in your hands. But for the best outcomes and pleasing appearances, we at Tile Superstore find that contrast is key.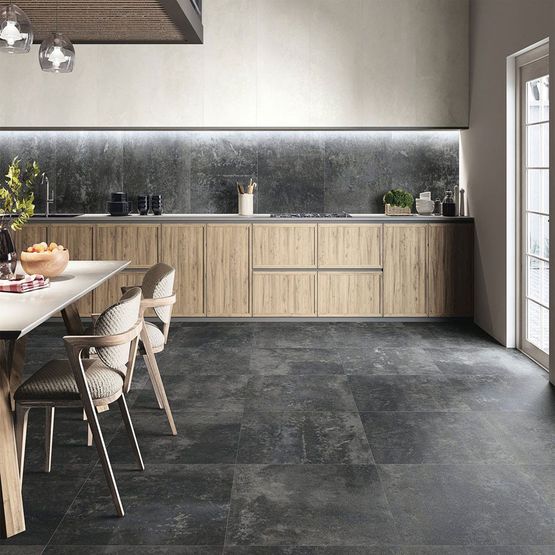 You'll likely discover that darker-toned floors in shades of black, dark brown, or anthracite grey are most pleasing to the eye when paired with lighter hues, spanning from delicate pastels to light neutral colours. These tones can be incorporated into your kitchen design through your choice of kitchen furniture and countertops for added depth and variety. White and lightly coloured wooden floors are somewhat more forgiving and serve as the perfect canvas for a broad range of colour schemes, ranging from gentle neutral shades to daring and vibrant tones. 
Darker kitchens have also risen in popularity recently, with urban-style kitchen tiles that feature bright contemporary lighting alongside modern black marble effect tiles. Though this style can provide a sleek and dramatic look to your kitchen, black or dark tiles paired with darker-coloured décor can result in already small kitchens feeling even smaller. This is why we believe you'll find a contrast of colours incredibly helpful.
---
How many tiles do I need?
To calculate the necessary quantity of tiles for your kitchen, determine its overall area. This involves multiplying the length by the width, considering any doorways or obstructions, and allocating an extra 10% to accommodate potential breakages.
Find the area covered by each tile using the same method (width x length). Divide the total area of your space by the tile's area to figure out the number of tiles you will need. If you're aiming to calculate the number of tile packs required, divide the total tile count by the quantity per pack. 
For a more detailed guide, you can refer to our article that offers precise instructions on how to measure for floor and wall tiles.
---
Final Thoughts
And there you have it. A comprehensive guide that'll keep you from floundering in the world of kitchen tiles.
In this article, we have covered everything but the kitchen sink (although we did include the backsplash), providing you with plenty of useful tips to help you on your journey to finding the best kitchen tiles for your project.
So, now that you're swimming like an Olympian – or taking a leisurely float on an inflatable, we won't judge – it's time for you to get to work. Just remember the key principles, such as tile type, tile size, tile location and tile colour, and you'll be all set to turn your dream kitchen into a reality.
Then, once you have your tiles picked out and ready, it's time to get them installed. If you're not sure where to start, why not give our tiles guide a read? In there, we cover primers and adhesives, so it's a great starting point for your upcoming tiling projects. 
Was this guide useful?
Let us know if you liked the post. That's the only way we can improve.
Thanks for rating this article.
Mentioned in this project guide: