When picking out flooring, it can feel like you're stuck between a rock and a hard place – or floor, if you appreciate a pun.
Sometimes carpet isn't right for your application or aesthetic, and hard floors like stone and tile can be too cold in the winter and too hard to maintain with children and pets. So why not buy LVT flooring?
But what is LVT flooring?
More on this later, but as an overview, LVT flooring is an easy and pleasing alternative, Luxury Vinyl flooring offers the appearance of hard floors but with added warmth and comfort. It's a great option if the carpet isn't what you're searching for and if authentic hard floors aren't quite right.
You might have never looked into a luxury vinyl floor before, but there's no need to worry. We've got you covered. This buyer's guide will help you figure out what LVT flooring is, the different types, what to look for when buying, and how it differs from laminate. 
---
Table of Contents
---
What is LVT flooring?
Luxury Vinyl Tile flooring is an advanced kind of vinyl flooring. It is made of multiple PVC vinyl layers and formed into planks or tiles designed to emulate the pleasing appearance of wood, stone or tile flooring at a cost-effective price.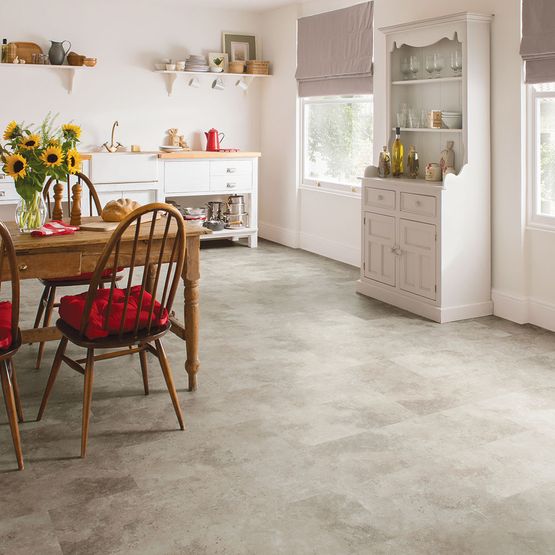 LVT flooring provides the durable characteristics and practicality of vinyl and is resistant to scratches and abrasions, making it the ideal flooring choice for high-traffic zones and homes with excitable pets. Not only this, but LVT flooring is also waterproof, easy to clean and versatile, making it a great option for when real wood, stone and tiled floors aren't quite suitable. For example, if you have young children, you can rest easy knowing your LVT floor can be wiped free of spills or messes without any timely maintenance required.
Being that it is lighter and thinner than wood, stone and tiles, LVT is easier to work with and you won't need professional experience to install it. It is a practical option, especially when you require shallow floors that won't add unnecessary depth.
---
Types of LVT flooring
There are two main types of LVT flooring that you can purchase: click LVT and glue down LVT. Both click LVT and glue down LVT offer fantastic aesthetics and high durability, but it's worth noting that their installation methods differ. It's important to figure out which is better suited to your project.
Click LVT
Like laminate flooring, click LVT consists of planks and tiles that are easily clicked together. Not only quick to install but highly versatile, click LVT can be laid on a range of level subfloors without the need for adhesive.
Glue down LVT
Glue down, otherwise known as stick-down or 'dryback' LVT, requires the planks and tiles to be glued to the subfloor and performs highly in every area in your home. It performs effectively even in environments with elevated temperatures, like conservatories and rooms with windows, as materials can adjust and contract in response to significant temperature fluctuations.
Some glue down LVT will have a self-adhesive back, but it's also worth checking the manufacturer's guidelines to find the most accurate adhesion method for you.
---
What to look for when buying LVT?
The main thing to consider when buying your LVT flooring is the room it'll be going in. LVT is perfect for a whole range of rooms around the home due to its hard-wearing nature, though darker shades of grey, brown and black will generally hold up better against any potential scuffs and scrapes.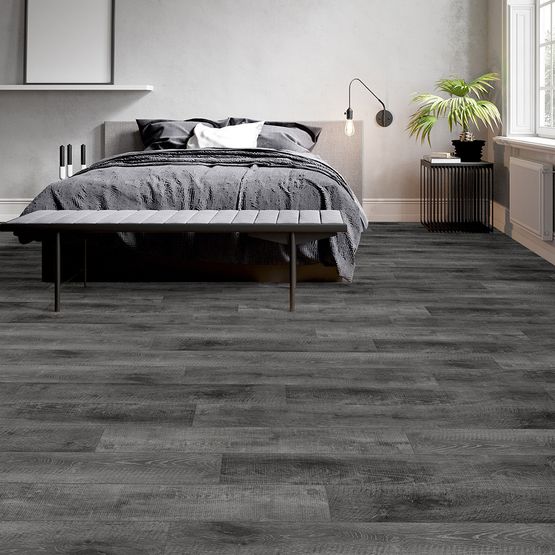 LVT's water resistance comes in handy in bathrooms and kitchens where spillages are frequent and in communal areas with continuous footfall. Bedrooms, lounges and dining rooms also benefit from its warmth and comfort, as well as its wide array of colours and designs that can be matched to virtually any kind of décor. You might want to use more striking stone or marble effect LVT for statement pieces, while small spaces may benefit from light wooden tones or pale colours.
If you're looking for an interesting pattern or design, why not venture beyond regular tiles and planks and look at herringbone LVT? Herringbone flooring includes two different kinds of planks. Both planks are equipped with tongue and groove edging on either side for easy and efficient laying. This joining method allows for patterns such as herringbone, fishbone, double fishbone or even block.
---
LVT vs Laminate
LVT and laminate flooring hold similarities, though they're actually quite different. Whereas LVT consists of multiple thin layers of PVC vinyl, as discussed earlier, laminate flooring is usually made from fibreboard and resin. Laminate flooring is also a type of floating floor, meaning it is never adhered to your subfloor, while the different types of LVT (click and glue down) offer you the choice. Standard LVT also tends to be thinner with thicknesses of up to 5mm, while laminate planks are thicker and range between 6mm and 12mm.
One of the most obvious differences is that LVT is waterproof, a benefit that laminate flooring lacks. This won't necessarily affect bedrooms and lounges but for kitchens and bathrooms, LVT is the more effective choice.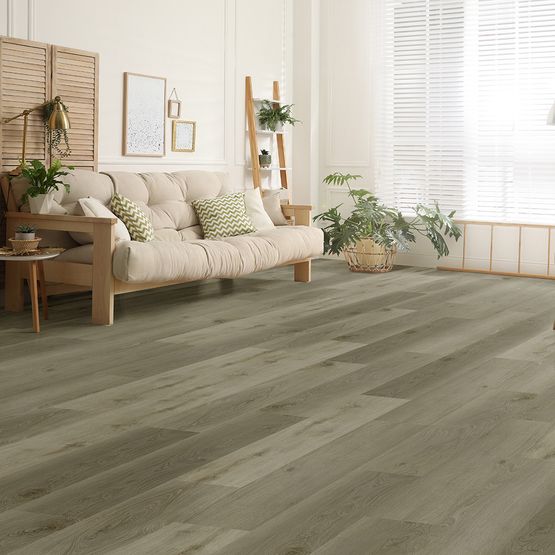 The two types of flooring also differ in terms of design and style. Laminate flooring typically specialises in creating the look and effect of wooden flooring, but LVT expands beyond that and offers alternatives to wood, stone concrete, tiles and more. If you're searching for an option that better fits your chosen aesthetics, from urban and industrial styles that look great with concrete all the way to modern homes that favour sleek furnishings and tile finishes, LVT is the way to go.
---
What is the best thickness for LVT?
Generally, thicknesses between 2mm and 4mm are recommended for residential applications with light to moderate foot traffic. You can invest in a thicker option when your rooms undergo a lot of footfall and, in turn, are more prone to wear and tear.
---
Do you need underlay for vinyl flooring?
If you're wondering what to put under vinyl flooring, it will depend on the flooring itself. Some LVT requires no underlay as it already includes a built-in base layer. However, underlays can add increased comfort, moisture protection, and noise reduction – all benefits to the performance of your floor. It's best to check with your manufacturer beforehand.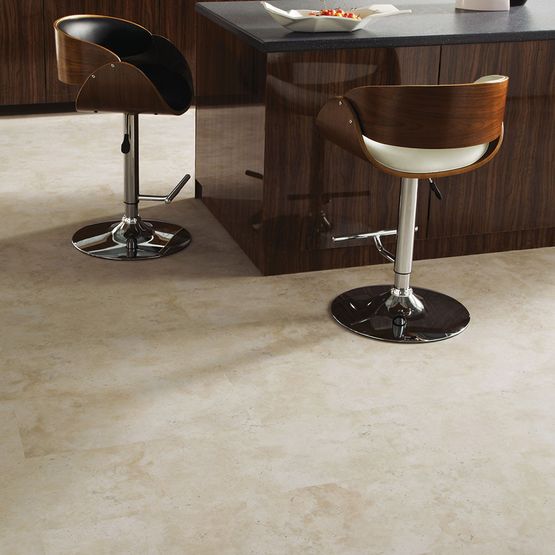 If you do need an underlay, there are several LVT underlays available on the market. They are typically suitable for use with underfloor heating and provide fantastic sound and thermal insulation.
---
Final Thoughts
So, in this guide, we've gone over how regular old carpets and hard floors might not be the best fit for your home. But then we presented you with the wonder that is Luxury Vinyl Tile flooring, which might just be the answer to all your prayers.  
Now that you're all clued in about what LVT flooring brings to the table, why not put that newfound wisdom to good use and browse our range of LVT flooring? It's time to get your flooring game on and finish up your home! 
Was this guide useful?
Let us know if you liked the post. That's the only way we can improve.
Thanks for rating this article.
Mentioned in this project guide: