If you're considering buying laminate flooring, you might be bewildered, or floored if you will, by the various styles, colours and sizes available. We're sure you have numerous queries about the different types of laminate flooring, but you've certainly come to the right place to find answers.
Thanks to this comprehensive guide, we can help you determine how to choose the right type of laminate flooring to suit your home's aesthetic and needs. With the perfect blend of charm, durability and affordability, you can transform your living space from a house into a home.
If you want laminate flooring in rooms of your home, check out this guide to understand its history, benefits and more.
---
Table of contents:
---
What is laminate flooring?
Laminate flooring is most commonly used as an alternative to solid wood flooring. The style was popularised in the 1990s. Particularly amongst households who desired unique floor finishes with the wooden effect.
Today laminate flooring is designed with more than standard wood effects. Today you can find parquet effect, slate effect and even stone effect style wood. Such a wide variety of styles means you can have multiple styles across the home, should you desire laminate flooring in multiple areas.
Installation isn't one to look at with unease. The tongue and groove method allows for quick, secure fitting. Moreover, this method allows for easy changes in the future should boards become stained or damaged during their use.
What is laminate flooring made of?
While there are many types of laminate flooring available, they usually comprise four layers:
Layer one – Melamine wear layer: a clear wear layer for protection.
Layer two – Decorative layer: a paper covering with the desired design.
Layer three – Fibreboard core: a high-density fibreboard (HDF).
Layer four – Melamine backing layer: a backing layer for stability.
Layer One: Melamine wear layer
Consistently protective of the lower layers, the top layer is made from robust plastic. Its surface is hard but comfortable to walk on, ensuring a luxurious feel, no matter the room. Additionally, it will shield your floor from damage, such as fading, wear and tear and scratches.
Layer Two: Decorative layer
With its realistic printed images simulating the effect of natural wood, stone or even tiled floor, the decorative layer features a slim structure that gives the laminate flooring its appearance. The intricate detailing of woodgrain or stone ensures your floor will look realistic.
Layer Three: Fibreboard core
At the centre of the laminate, the fibreboard core consists of wood fibres saturated with resins for exceptional strength, hardness and rigidity. Thanks to its durability, it makes laminate flooring an excellent addition to busy family homes.
Layer Four: Melamine backing layer
As the most vital part of laminate flooring, the bottom melamine layer prevents any potential moisture penetration, making it perfect for use in your bathroom or kitchen. This layer ensures that the structural integrity of your flooring is not impacted by humidity or water, which can be particularly damaging.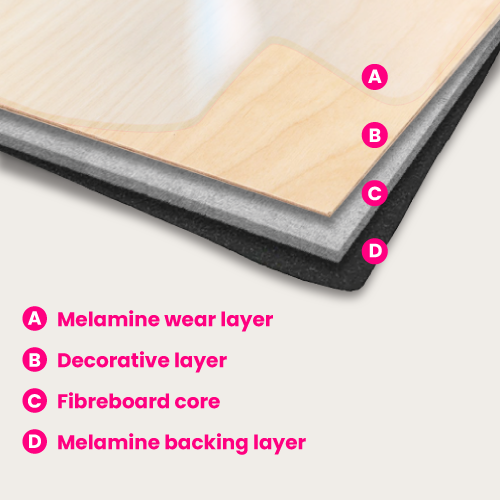 These layers are sealed together during the lamination process.  The boards also come in various thicknesses. This is typically just to suit the look and feel, although it does have a minor effect on durability. However, thicker laminate flooring's main benefits are more in-depth.
Note: Durability is not a direct advantage of thicker laminate and imperfections in the flooring (e.g. not level) can cause the laminate to come apart during use.
---
Where can you lay laminate flooring?
Laminate flooring can be great for any room in the home. Though typically it has been a firm favourite in the UK for kitchens, bedrooms and living rooms for many years. The variety of colours and styles allow for a timeless, stylish floor lasting as long as desired, regardless of where it is placed.
---
What are the benefits of laminate flooring?
Laminate flooring is known for its many ideal benefits. In fact, this type of flooring is most commonly used as an alternative to solid wood flooring because of these benefits we're about to show you below.
Aspect
Benefit
Visual
A variety of wood grains
Traditional laminate colours
Can hide subfloor imperfections
Similar to hardwood underfoot
More detailed designs can be etched in
Longevity
Resilient
Hard-wearing
More impact resistance
Uses
Versatile
Adaptable
Less hassle
Reduced echo when walked on

Cleaning
Easy to maintain
Cost
Less expensive
---
How much laminate flooring do I need?
It's important to note that laminate flooring comes in packs of boards. Single boards are not typically available, so make sure you have checked how much you need beforehand.
To help you with the measurements, each pack of boards will state the number of metres squared flooring you're able to cover. Each product also has a calculator on it, so you can work out how many packs you need when laying the flooring into the room space. Why not check out our handy guide on How to measure a floor for more information?
---
Laminate flooring thickness guide
The thickness of laminate flooring depends on what is best suited to your needs for the room. This will vary depending on your budget due to the more material used, the higher the costs. Nevertheless, the thicker the flooring, the stronger and more rigid it will be, tolerating daily wear and tear. A deeper depth will have a more realistic wood aesthetic with more detailed etching, while a wider width will minimise sound reverberations and echoes around your room.
Thinner laminate, although not as heavy on such benefits, is much cheaper.
You'll find that laminate flooring is manufactured with thicknesses ranging from 6mm up to 14mm. While 14mm is the thickest laminate flooring, typically between 10mm and 12mm will offer adequate durability. Although, if your subfloor is level and stable, 7mm or 8mm is likely to be suitable. Therefore, only you can decide on the best thickness for your laminate flooring.
Don't forget to consider your underlayment when selecting the thickness as this will impact your floor-to-ceiling height. There are also various underlays to suit your room's specific environment.
---
Laminate flooring AC rating guide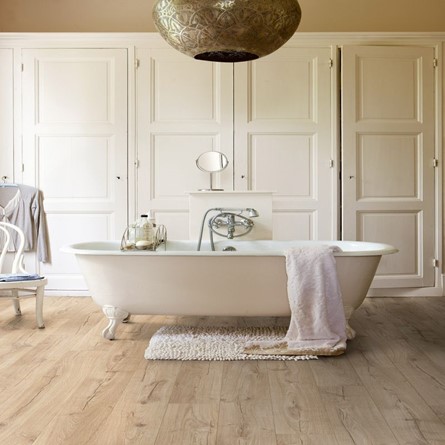 You might be wondering, how can you tell if laminate flooring is good quality? Well, you may be surprised to hear that laminate flooring comes in different grades. These are defined by AC ratings, meaning "abrasion class", which indicate how tough and durable it is as well as its resilience against abrasion, moisture and other factors.
For the laminate flooring to achieve its rating, it will have undergone extensive testing through the Taber test. This involves a turntable covered with abrasive wheels which exert a controlled force. The wear resistance is then assessed by measuring the weight loss or change in appearance after testing. However, if it's not up to scratch to the expected standards and quality, it simply won't pass.
So, the higher the AC rating, the stronger the flooring and the more suited to high-traffic areas, which, in turn, will cause the cost to increase.
Nonetheless, finding the appropriate grade for your laminate flooring will depend on where you want to lay it. Just because the AC rating is higher, it doesn't mean it's the best option.  So, if you want to know what is the best grade of laminate flooring to suit your needs, read on to see those AC ratings!
AC Rating
Suited traffic type
Uses
1
Minimal to moderate
Bedrooms
Guest rooms
2
General
Dining rooms
Living rooms
3
Heavy
All areas
Hallways
4
Moderate
Small offices
Small retail outlets
Cafés
5
Heavy
Bathrooms
Large department stores
Large offices
Public buildings
---
Which laminate floor style should I choose?
Now we've covered the technical details, you'll be pleased to hear that you can decide on your laminate floor design. With so many laminate flooring styles, colours and looks, from wood effect to tile imitations, you're sure to find a stunning aesthetic that reflects your unique style with a fusion of beauty and functionality. So, read on if you want to know more, as it's time for your home to "floor-ish"!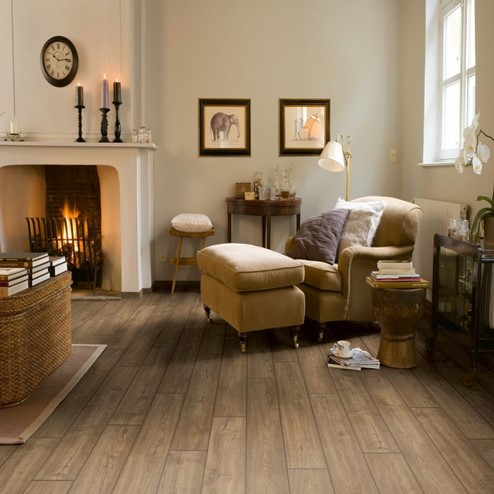 Wood effect
Available in an array of shades and looks, wood effect laminate flooring combines the timeless allure of natural wood flooring with the practicality of laminate. It offers a remarkably realistic appearance while sparing you the expense and continuous upkeep of actual solid wood.
Oak
Harmonising with virtually any interior design, from rustic farmhouse to modern industrial, oak laminate flooring is one of the most popular options available, and rightly so. It will infuse your bedroom or kitchen with a welcoming warmth that exudes comfort and authenticity.
In a rustic-inspired interior, oak laminate flooring can be combined with wooden ceiling beams and antique furniture for a charming look. Alternatively, in an industrial setting, it pairs well with exposed brick walls and metal fixtures, adding a touch of nature to an edgy and urban space.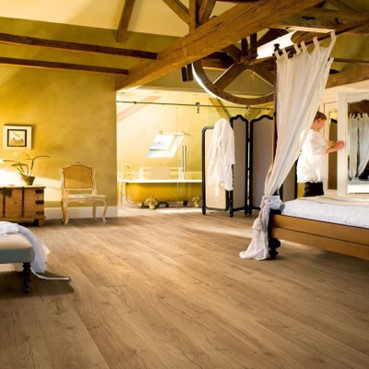 Walnut
Ideal for replicating the stunning, dark richness of real walnut wood at a fraction of the cost, walnut laminate flooring authentically captures each intricate knot and grain detail to deliver natural beauty and charm to your space.
Complementing both traditional and contemporary interior designs, walnut flooring works well with classic furniture and modern décor alike. In traditional interiors, it pairs beautifully with ornate rugs, luxurious light fittings and intricate woodwork, creating a sense of elegance. In contemporary spaces, it serves as a striking focal point, enhancing the neat lines of modern furniture and contrasting with minimalist décor to add a touch of sophistication.
Chestnut
With a natural appearance complemented by exquisite detailing that effortlessly accentuates its realism, chestnut laminate flooring boasts a charmingly weathered surface that evokes a delightful classic ambience.
For a cosy cottage aesthetic, chestnut flooring perfectly coordinates with soft, comforting textiles, shabby-chic furniture and natural elements to create an inviting setting. On the other hand, in modern spaces, it provides a sense of comfort and grounding when paired with clean-lined furniture in bold colours or rugs with geometric patterns or abstract designs.
Grey
As a stylish and trendy choice for your home, grey laminate flooring will add a touch of elegance and modernity to your interior décor with cool and neutral tones, beautifully complementing any aesthetic.
For a Scandinavian-inspired design, light grey wood effect flooring charmingly harmonises with white walls, natural materials and snug textiles, culminating in a light and fresh space. For a coastal-inspired aesthetic, it pairs well with soft blues, sandy neutrals and whimsical nautical elements, like ropes, shells and driftwood, bringing a sense of seaside tranquillity.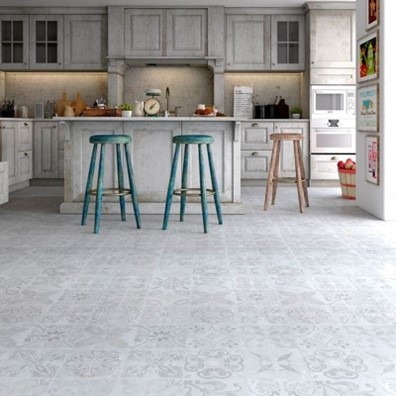 White
Delivering a classic and timeless allure, white laminate flooring boasts a neutral palette that effortlessly coordinates with any design, ensuring your space remains stylish no matter the trends. With a bright and airy charm, it maximises natural light, making even the smallest rooms feel more expansive.
For a minimalistic design, white laminate flooring pairs well with clean lines, natural materials and neutral colour palettes. In contemporary interiors, it offers a blank canvas that contrasts with bold colours, statement furniture and unique artwork to take centre stage and create a dynamic atmosphere.
Stone
Providing the captivating charm of a stone or slate floor without the hassle, stone or tile effect laminate flooring offers a brilliantly authentic appearance designed to replicate various patterns, shapes, sizes and finishes. Its anti-slip features ensure safety, while the warmth and comforting surface add a splash of luxury to every step.
For a rustic interior design with a tranquil and appealing ambience, stone laminate flooring complements exposed wooden beams, vintage furniture and earthy textures. For modern spaces, patterned flooring can add an element of visual interest against contemporary furniture and minimalist décor, creating a stylish setting.
---
Which laminate floor finish should I choose?
If you have an eye for the finer details, you can elevate your laminate floor with an exquisite finish, texture and surface detailing. Not only will it look beautiful and authentic, but it will also feel comfortable underfoot. Read on if you want to know more, so you can step up your laminate knowledge!
Surface finishes and textures
Surface finishes and textures play a crucial role in determining the aesthetic appeal of your laminate flooring. Each option offers unique characteristics for different design preferences.

Matt
Dampening light reflection with a softer appearance, the matt or low gloss finish recreates the natural look of unsealed wood to give a more rustic aesthetic. Ideal for rooms bathed in natural light, it minimises distractions caused by excessive reflections. Additionally, its muted surface will help conceal dust, dirt and even scratches and scuffs, making it a superb option if you have children or pets.
Gloss
Adding an element of sophistication to your space, the gloss finish creates a reflective shine for laminate flooring. This makes it an excellent choice for contemporary-designed settings seeking a sleek and modern look.
Satin
Striking the perfect balance of gloss and matt finishes, satin or medium gloss laminate flooring will elevate your space with its unique charm and soft sheen. Ideal for modern areas with an abundance of natural light, it will shine without being overpowering.
Smooth
With a sleek surface, smooth laminate flooring is more hygienic and effortless to clean and maintain. But if you want to emulate the genuine charm of natural materials, you might want to explore other options to achieve a more realistic look.
Embossed
With its textured surface, embossed laminate flooring exudes a wood-like feel. The pattern is pressed into the material to add a touch of realism. However, regular embossing won't precisely match the grain on the printed image of your laminate, resulting in a less authentic aesthetic. Moreover, the textured surface is trickier to clean with the crevices and recesses.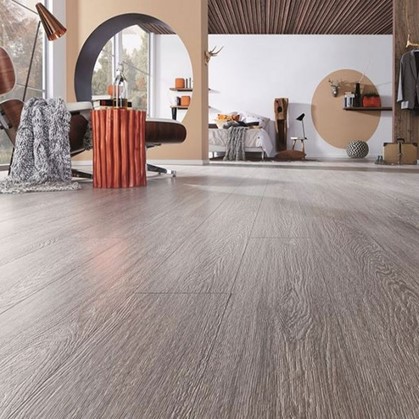 Registered embossed
Like the embossed texture, registered embossed laminate flooring has a pattern pressed into the surface. To create a completely genuine appearance and feel, the texture follows the grain of the printed image, allowing for exact precision and a more realistic finish.
Distressed texture or hand-scraped patina
Mimicking the weathered beauty of authentic wood, hand-scraped laminate delivers the allure of aged and distressed aesthetics and the sensation of natural grains and indentations. Subsequently, you can relish the warmth of rustic elegance.
Plank appearance
The plank appearance of laminate flooring provides a diverse range of design options to enhance the ambience of your living space. Whatever your preference, there's a plank finish to suit your style and transform your floor into an inviting haven of individuality.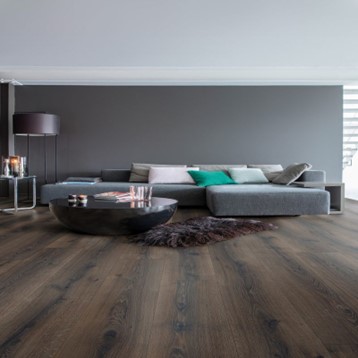 Narrow
Exuding a sense of streamlined sophistication, thin-plank laminate flooring is a fantastic option for optimising small spaces. The narrow design creates an illusion of more planks in the room, giving a spacious feel that adds depth and dimension to your living area. While it might look less like genuine wood, it will provide a contemporary touch to your home.
Wide
Striking the ideal balance between rustic aesthetics and a spacious, uncluttered feel, wide-plank laminate flooring is tailored for larger spaces and creates an authentic and natural environment for your home. Emanating traditional architectural styles, it is a sturdier option than the thin planks.
However, you should only use wide planks if your substrate is entirely level and uniform. Otherwise, there will be gaps beneath the planks, the end joints won't stay flush, and they will be more difficult to click together.
Single
Providing a traditional look for your floor, single plank laminate flooring is designed to mimic the appearance of a single wood plank, stretching across the complete width of each piece.
Two strip
Alternatively, the two-strip design showcases two wood strips that gracefully adorn each laminate piece for a staggered pattern that accentuates the colour variations.
Multistrip
Offering the illusion of multiple wooden boards, the multistrip plank detailing creates a random pattern, such as chevron and herringbone designs. It adds a unique charm, turning your abode into a captivating space with originality and style.

---
Which laminate floor edging should I choose?
There are multiple types of edges to choose from when it comes to laminate flooring. Here is a brief overview of the types you can choose from:
No groove: As said in the name, there are no grooves to the edge. Laminate edges meet squarely to create a smooth and clean surface to ensure the wooden floor blends perfectly.
V groove: This type of edge is a finish. Typically it is a bevelled edge of each laminate piece to enhance both the depth and definition between each piece of laminate. The bevel itself is used to ensure that planks can click in place and a groove resembling a V can be seen between each of the boards. This gives a natural finish and improves the appearance of a traditional wood effect. '
4 V groove: This is similar to a V groove. However, instead of certain edges, the bevel is applied to the length and width of the planks for a more authentic wooden appearance, even working as a better form of groove to enhance the appearance of a hardwood floor.
---
Laminate flooring accessories and underlay
Once you've decided on laminate flooring, you'll want to make sure you have the correct trimming for a neat finish and underlay for a complete installation. So, let's get to it!
Laminate flooring accessories
With a wide range of laminate flooring accessories to match your style, you will be able to create stunning transitions and seamless connections. A floor bar will coordinate with your flooring by sitting flush across thresholds between rooms. In addition, a scotia will fill the space between the skirting board or wall and your planks. If you have flooring with two different heights, a ramp section will fit over the two pieces for a smooth join.
Underlay
Some laminate flooring will come with pre-attached underlay, while other types will need to be fitted separately. Designed to provide comfort, stability and insulation, an appropriate underlay will help you achieve a flawless, level installation, preventing breakage and cracking due to uneven surfaces. Not only will it make installing your planks easier, but it also provides a softer surface, inhibiting the laminate flooring from clicking on the subfloor and minimising noise transfer.
Furthermore, the underlay will safeguard your laminate flooring from potential moisture damage posed by concrete and wooden floors, acting as an extra barrier and prolonging the lifespan of your flooring. What's more, its insulating qualities help trap heat below your floor, saving you money on energy bills. Selecting the right underlay will vary depending on your subfloor and the area of installation.
---
Where is the best place to buy laminate flooring?
With an extensive selection that combines style and affordability, you'll be pleased to find that you don't have to search far for top-notch laminate flooring options. Right here, at Tile Superstore, we ensure exceptional quality and durability, hassle-free shopping, excellent customer service and prices to suit most budgets.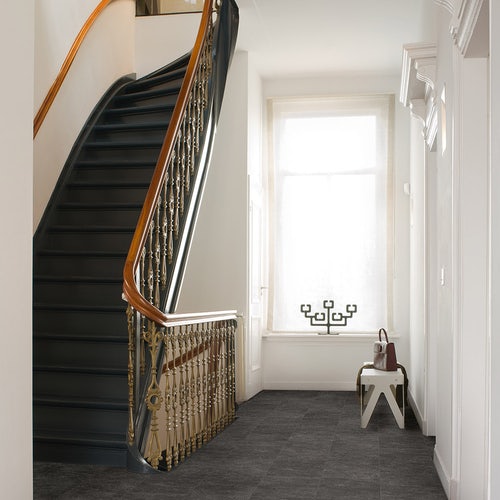 ---
Final thoughts
Choosing the perfect laminate flooring for your home can be an exciting yet overwhelming experience. With the myriad of styles, colours and sizes available, it's easy to get floored by the options. However, fear not, as this comprehensive buyer's guide has armed you with the knowledge you need to make an informed decision. With the ideal blend of charm, durability and affordability, laminate flooring can transform your living space into a cosy and inviting home. And if you're ready for the installation process, check out our guide on Laying Laminate Flooring.

Was this guide useful?
Let us know if you liked the post. That's the only way we can improve.
Thanks for rating this article.
Mentioned in this project guide: